| | |
| --- | --- |
| Air Traffic Control Tower | |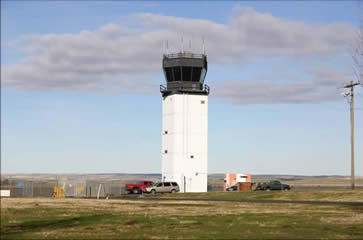 The control tower at the Walla Walla Regional Airport is part of the federal contract tower program with ATC Services provided by Serco Management Services, Inc., a division of Serco Group, plc. one of the world's leading and most admired service companies.  The Air Traffic Control staff at ALW has experience controlling military and civilian aircraft in locations from as far away as Midway Island, the Persian Gulf and McMurdo Station in Antarctica to locations closer to home such as, Whidbey Island, Fallon Nevada and many airports in between.
Please let us know how we are doing! SERCO survey.
The controllers at ALW are available to answer questions, address concerns or to simply talk "shop".  A packet containing locally produced "Tower Tips", "Hot Spots" and runway safety items is available for the asking.  The packet is designed for student pilots, but is useful to everyone.
Tower Tours are available depending on the current security condition.  Tours must be coordinated in advance with the Air Traffic Manager.  Tour participants must be U.S. Citizens.
MONTHLY TOWER TIPS
Reporting the final approach fix inbound is a call that pilots repeatedly forget to make. The final approach phase is one of those times when pilot workload is high; configuring the airplane for landing, slowing to final approach speed and making sure the gear is down and locked. Not to mention it may be the last leg of the day, or the end of a long flight.
Have you ever wondered why ATC wants you to report the final approach fix inbound? Here are a couple of reasons that might get your attention and help you think about why it is important to remember to make the call the next time ATC tells you to the final approach fix:
There may be maintenance and equipment out on the runway completing a FOD sweep, fixing runway lights, chasing off wildlife or maintaining a navigational system. The Air Traffic Controller needs your report so the crews can be alerted to clear the runway so that you can land.
If it is winter time and it has been snowing airport operations may have their snow removal crews out on the runway with their snow broom truck and snowplow. Your report may be the cut-off point, giving sufficient time for snow removal crews to clear the runway so that you can land.
ATC may have sequencing decisions and/or traffic calls to issue you in conjunction with your landing clearance.
Remembering to comply with ATC's reporting instructions is a safety related call. These position reports can be even more important when the tower is closed or at non-towered airports. The crew plowing the snow at midnight don't want to be surprised by you when you break out of the clouds at 300' just as much as you don't want to see them plowing snow off of the centerline of the runway you expected to land on.
CONTACT US
Tower Hours
0630 - 1900L Daily
Contact Info
John Crane
Air Traffic Manager
This email address is being protected from spambots. You need JavaScript enabled to view it.
This email address is being protected from spambots. You need JavaScript enabled to view it.
Address
198 W. Curtis Avenue
Walla Walla, WA 99362
Owned and Operated by the Port of Walla Walla



Port of Walla Walla
310 A Street
Walla Walla Regional Airport
Walla Walla, WA (USA) 99362-2269
phone: 509-525-3100
fax: 509-525-3101
Follow the Airport
on Facebook
Your are currently browsing this site with Internet Explorer 6 (IE6).
Your current web browser must be updated to version 7 of Internet Explorer (IE7) to take advantage of all of template's capabilities.
Why should I upgrade to Internet Explorer 7?
Microsoft has redesigned Internet Explorer from the ground up, with better security, new capabilities, and a whole new interface. Many changes resulted from the feedback of millions of users who tested prerelease versions of the new browser. The most compelling reason to upgrade is the improved security. The Internet of today is not the Internet of five years ago. There are dangers that simply didn't exist back in 2001, when Internet Explorer 6 was released to the world. Internet Explorer 7 makes surfing the web fundamentally safer by offering greater protection against viruses, spyware, and other online risks.
Get free downloads for Internet Explorer 7, including recommended updates as they become available. To download Internet Explorer 7 in the language of your choice, please visit the Internet Explorer 7 worldwide page.