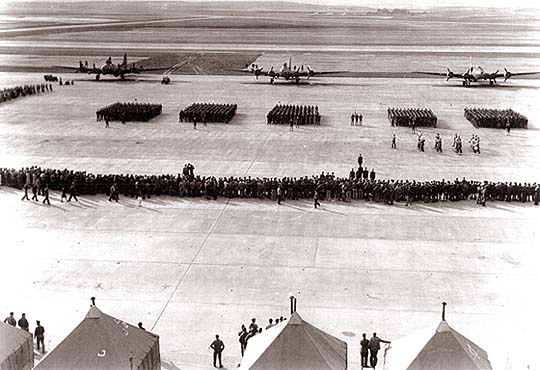 WWII NEWSPAPERS
"Walla Wallup"
(For search function use
Internet Explorer)
Early Aviators
On September 19, 1910, pilot A.C. Tunnison brought a Bleriot Monoplane to the Walla Walla County Fair. His attempts to get airborne were futile. Then, April 26, 1911, Walter Brookins in a Wright Biplane made a successful flight at the fairgrounds and the next day Brookins and Charles Willard flew over the fairgrounds in two planes. It is believed that these are the first two airplanes ever to be airborne at the same time in the State of Washington.
Aviation continued to feed the imagination in the Walla Walla Valley with T.T. Maroney flying a night flight at the fairgrounds in 1914 and automobile racer Barney Oldfield put on car vs. airplane races at the fairgrounds in 1915.
Aviation in the 1920's and 1930's
The first municipally operated airfield in Walla Walla was leased June 28, 1922, in the proximity of the present day airport. It was abandoned and in the spring of 1926 a 1,000 x 2,500 foot area at the Veterans hospital was leased. The first Walla Walla air derby was held there May 1928. As a result of that event the Walla Walla Airport Association was incorporated in 1928 and the next spring work was begun by the association and the Chamber of Commerce on a project to secure a larger airport.
A $50,000 bond election was held June 18, 1929, to provide funds to buy a portion of the present day airport. The City of Walla Walla took over the airport October 7, 1930.
World War II
In 1942 the airfield was taken over by the government to become an army airfield. The War Department announced they would be spending over 7.5 million dollars to construct an Army Air Corps Training Airfield adjacent to the existing Walla Walla Airfield. With the old 200-acre municipal airport as a nucleus, they commenced development of the Walla Walla Army Air Base, which ultimately comprised 2,164 acres of land. Over 300 buildings were constructed and equipped to house, feed and train approximately 6,000 men at one time. The 91st Bomb Group lays claim to being the first Army Air Forces outfit to utilize the Walla Walla Base. They had initially trained in Florida before arriving in Walla Walla. Upon arrival, they trained and learned to fly B-17 airplanes. The 91st Bomb Group went on to distinguish itself in combat over Europe. Several of these crews made outstanding records during their tour of duty and were well publicized upon their return to the states with names such as "Jack the Ripper", "Memphis Belle" and "Delta Rebel". The "Memphis Belle" became the first B-17 to complete 25 missions in Europe. Late in 1943, Walla Walla Army Airfield lay idle when the Second Air Force withdrew its B-17 Flying Fortress training operation. However, in April of the following year, the Fourth Air Force took charge of the airstrip and established a training base for B-24 Liberator crews. During the war years, it is estimated that more than 8,000 officers and men were trained at this base producing 594 heavy bomber crews who compiled about 114,514 hours in the air while in training.
In 1947 the United States Air Force declared the Walla Walla Airfield surplus and on December 1, 1947 the City and County took over operations. An Airport Board was formed to manage the airport and the complexities of the facilities transfer. After considerably less than the standard two year probationary period, the Airport Board received an approved Civil Aviation Authority's full and complete title to the $13 million airport on April 10, 1949. This was the first joint ownership (City/County) permitted in the entire nation.
Passenger Service
Passenger service in and out of the Walla Walla Valley dates back to 1928 when Mamer Air Transport used Walla Walla as a hub for services to Portland, Spokane, Butte, Yakima and Boise flying Ford Tri-Motors. Other airlines having operated in and out of Walla Walla from 1932 until the present are: Portland Airways, 1932; United Airlines, 1937; Empire Airlines, 1946; Inland Airways, 1947; West Coast Airlines, 1954; Hughes Air West, 1965 (first jet service to Walla Walla); Cascade Airways, 1971; Horizon Air, 1985; and Mountain West Airlines, dba United Express, 1996. Currently, Horizon Air is conducting operations in and out of Walla Walla via the Seattle hub.
Present
In 1989 the Port of Walla Walla took ownership and operational responsibility of the airport, and changed its title to "Walla Walla Regional Airport." The airport encompasses 2,400 acres, including a college flight school, FBO, charter flight business, ag-spray business, and many general aviation and corporate hangars. The airport also utilizes many of the original base buildings with non-aviation use in its industrial park, with a number of properties leased to wineries and other businesses. The Port of Walla Walla recently dedicated a new, ultra-modern passenger facility terminal that has been a source of community pride and the hub of travel activity since it was dedicated in December 2000. All of these changes have contributed to the creation of the region's most complete industrial park and transportation center. The aviation industry and Walla Walla's airport has come a long way since the region's first flight attempt in 1910. Aviation is now an integral and necessary part of transportation and commerce in the Walla Walla Valley.
Owned and Operated by the Port of Walla Walla



Port of Walla Walla
310 A Street
Walla Walla Regional Airport
Walla Walla, WA (USA) 99362-2269
Phone: 509-525-3100
Fax: 509-525-3101
Follow the Airport
on Facebook
Your are currently browsing this site with Internet Explorer 6 (IE6).
Your current web browser must be updated to version 7 of Internet Explorer (IE7) to take advantage of all of template's capabilities.
Why should I upgrade to Internet Explorer 7?
Microsoft has redesigned Internet Explorer from the ground up, with better security, new capabilities, and a whole new interface. Many changes resulted from the feedback of millions of users who tested prerelease versions of the new browser. The most compelling reason to upgrade is the improved security. The Internet of today is not the Internet of five years ago. There are dangers that simply didn't exist back in 2001, when Internet Explorer 6 was released to the world. Internet Explorer 7 makes surfing the web fundamentally safer by offering greater protection against viruses, spyware, and other online risks.
Get free downloads for Internet Explorer 7, including recommended updates as they become available. To download Internet Explorer 7 in the language of your choice, please visit the Internet Explorer 7 worldwide page.